Viktor Zappner
I was born in Trutnov on October 11, 1936. My close relationship to music started in the prenatal stage, I would say. My mother was a good pianist and an amateur operatic singer. She liked to fool around with tunes – a combination of improvisation and musical comedy.  My father also had some singing lessons while living in Paris for several years before World War II. Later, with two sisters and a brother, our household was always overflowing with music – classical, popular, folk and jazz.  By 1946 I was 10 and started piano lessons. Three years later, I formed my first band within a church youth organisation (and continued after 1951 under the auspices of a "workers club"). We'd play at the regular Sunday afternoon dances and for varied cabaret or revue programs.
In late 1950s, after compulsory military service in the Czechoslovak army, I finally entered show-business as a professional musician. What a great time full of swing and jazz. I had a chance to play with dance bands, gypsy groups, orchestras and traditional bands; in bars, night clubs, restaurants, cafés, variety theatres, on cruise ships, theatres, dance halls; outdoors, indoors; for pimps and prostitutes, ministers and everybody (sober or drunk) in between. Being a musician in Czechoslovakia in those years created a very rare window of opportunity to travel out of the country and, sometimes, to make a lot of money. I could hardly believe my luck when boarding the MS Bremen, with a show band from Prague and later MS Europe with two German musicians for nearly 11 months of cruises between Canada, New York, Bermuda, the Caribbean and South America. I fell hopelessly in love with New York – with its jazz included.  Skiing at an exclusive resort in the French Alps; buying books, forbidden in Czechoslovakia at the Columbia University Book Store; listening to Arabic music in Macedonia; visiting Edward Munch's Museum in Oslo – those were some of the many bonuses for me.
What a great time full of swing and jazz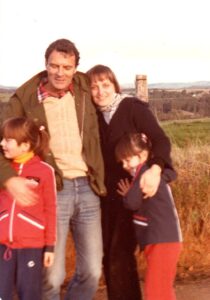 I studied Music at a Teachers College in Slovakia and continued with studies of Pedagogy and Psychology, at Charles University in Prague. I graduated in 1971. My passion for music suddenly joined with my academic field. As part of a specialisation in clinical psychology, I was doing research in the perception of music by different groups of psychiatric patients: psychotics, neurotics and alcoholics. At the same time, I became a member of the International Group for Music Therapy based in East Germany and, also, a co-leader of the Working Group for Music Therapy attached to the Section for Psychotherapy of the Psychiatric Society in Prague.
Before my wife and I escaped with our children in July 1978, I worked as a Clinical Psychologist at the excellent Alcohol and Drug Dependence section of the University Clinic in Prague. After years of using music to entice people to more drinking, my task now was to help them to stop it once and for all.
The transition from Czechoslovakia to Australia was made easier for me thanks to jazz. After arriving to Hobart in 1979 my family was introduced to Elinor Morrisby, a Hobart-born flute player who had only recently returned from Prague after studying at the Conservatory of Music. To my surprise I recognised her as the woman who puzzled me several times on a tram in Prague because each time she was reading some English book about music. She introduced me to a few brilliant musicians who started my involvement with jazz in Australia. Shortly after we settled in Burnie, I was introduced to saxophonist Tas Cowgill who in 1947, with an English Army Band, played at the Fenix Café in Prague. The world is small.
Jazz! What a splendid art and, also, what a beautiful hobby!
My decades of playing jazz in Tasmania are well documented in the numerous newsletters published by our Jazz Action Society. Since its founding in 1983, we have presented 242 concerts across the North West region. I'm especially proud of the fact that since March 2002 we maintained a regular weekly jazz event in Burnie. In 2011, I was nominated as a 'Local Hero' for the 'Australian of the Year' awards for my contribution to jazz and arts. In June 2013, I received the Medal of the Order of Australia in the General Division for service to the arts through the introduction and promotion of jazz in North West Tasmania. I also used to serve as a Musical Director of the well-known Devonport Jazz Festival for fifteen years.
My career of a school psychologist and psychotherapist came to the end in 2006. Since my retirement, I am again able to enjoy daily piano practice and I would dare to say:
"Jazz! What a splendid art and, also, what a beautiful hobby!"