Karel Zabloudil
I was born on October 14, 1923 in Hranice na Morave as the only child to Josefa and Karel Zabloudil. My cousins and I worked on the family farm and my job was to stuff the geese with corn. I never was able to eat corn again in my life.  We later moved to Prague and my father had a shop that sold office supplies and paper.
I became obsessed with sports at a young age and my passion was bicycling, running, and winter biathlon.  I joined Slavia and trained as a bicyclist and then became a runner.  I trained and raced with my best friends including Emil Zátopek. We were enlisted in the Czechoslovak army when Hitler occupied Czechoslovakia but luckily were able to continue to train during the war. Our five-member team consisting of Zátopek, Zabloudil, Roudný, Vomáčka, Kořán won a gold medal at the Allied World Cross-Country Championships in Hanover in 1947.  Later that year, I won the gold medal on behalf of the army in the world famous Bechovice race.
I trained and raced with my best friends including Emil Zátopek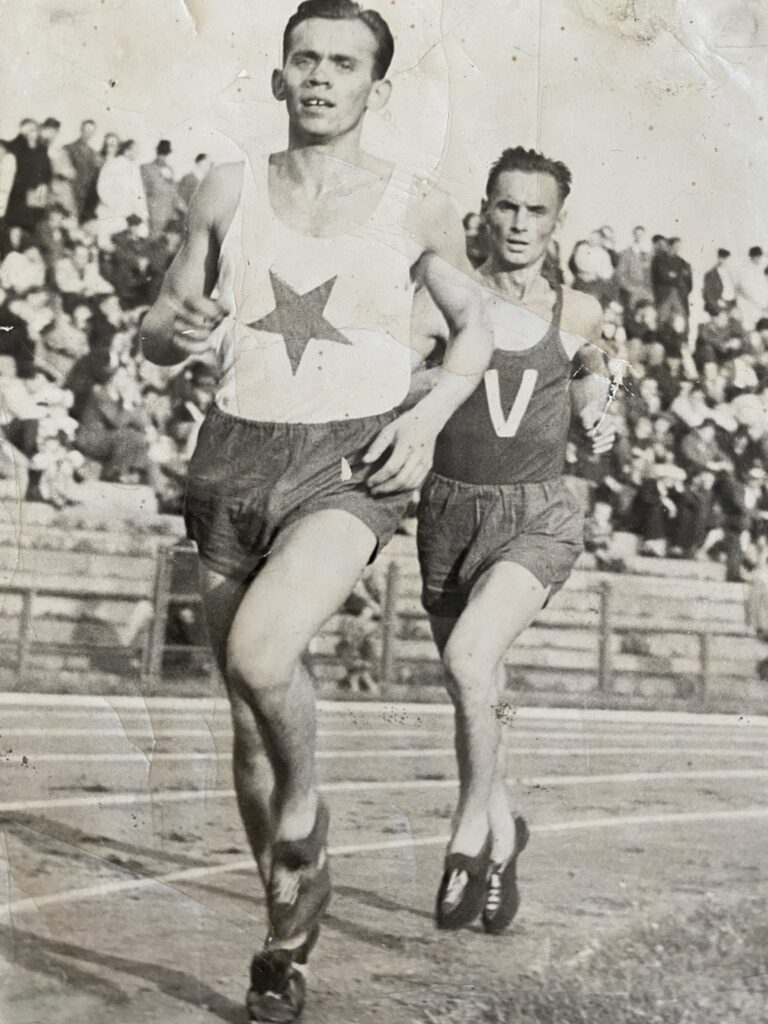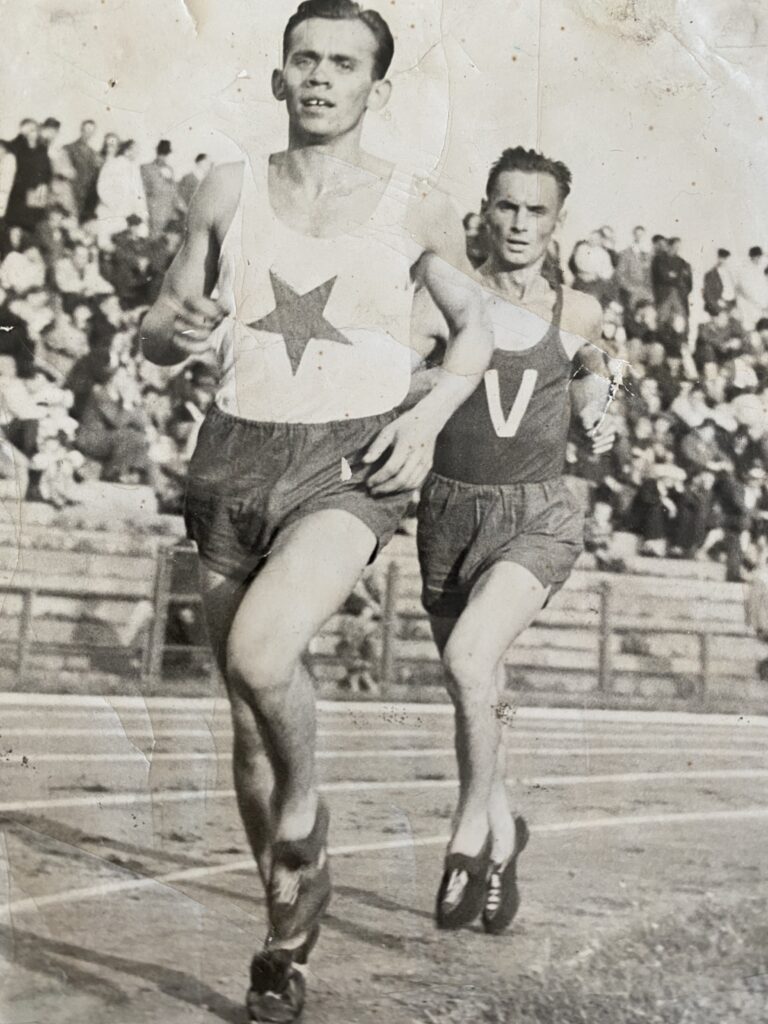 In 1948, I travelled to a race in Great Britain with Otto Rozvoda and we ran away from our hotel in the middle of the night. I never looked back.  I never stopped running. I was originally planning to flee to Canada because I had friends that had escaped Czechoslovakia earlier and were already living there.  The Canadian government decided at that point to stop accepting any more European immigrants, unless they had a promised job or lots of money to cover their living expenses.  I had neither, but through my network of friends was able to get myself to South America.  I was able to get a job working on an oil refinery rig off the shore of Venezuela. I saved enough money to qualify for immigrant status in Canada.  Right before I was about to leave I caught yellow fever which delayed my departure.
In 1950 I was able to immigrate to Toronto and got a job with Ford Motor Company as a tool and die apprentice.  It was in Toronto where I met and married my first wife, Milada (also Czech) in 1953 and a year later we had our first child Eva.  We decided we were ready for warmer weather and moved to Montrose, California and later to Santa Monica  and I got a job working for  an engineering company as a tool and die employee.  My second child Betsy was born in 1959.  I then began taking night classes at UCLA in Engineering and we bought our first home in Torrance, California in 1961.
I became a U.S. Citizen in 1963 and began working for a division of North American Aviation called Autonetics in Anaheim in the inertial navigation systems (used in submarines).  I started to learn how to fly small airplanes and got my pilot's license in 1966.  My driving commute to work was extremely long so I bought a Cessna and started flying to work instead.
In 1968 while working at Autonetics, I met Thomas H. Gift and we collaborated to invent the side looking sonar machine that allowed us to get government contracts with the United States Navy, Frenchman Jacques Cousteau, and the French Navy for exploration and retrieval purposes.  We called the company Ocean Sonics. We equipped the famous minesweeping vessel the Calypso with our sonar instruments.  I became very close with Jacques Cousteau's son, Phillippe Cousteau, and together we went on many incredible adventures by sea and by plane.  We trolled islands looking for treasure and spent lots of time out on the oceans doing oceanographic research.  One time we were flying a seaplane near the Marianas Islands and the wing fell off – we crash landed into the trees. We lived through it, but not long after my friend Phillipe died in another tragic accident near Lisbon.
At Ocean Sonics I was fortunate enough to hire my dear friend and racing partner, Ladislav Kořán, who had been caught years before attempting to escape Czechoslovakia and spent many years in Jáchymov prison.  He became U.S. citizen in 1976. We remained dear friends until the very end and we were even invited to do an honorary race in Bechovice in our seventies.
In the late 1960's I changed the company name to Ecosystems and made our headquarters in El Segundo, California. In 1969, with the use of our sonar equipment we helped to recover pieces of United Airlines Flight 266 that crashed into the Santa Monica Bay four minutes after takeoff from LAX on route to Milwaukee. Later, I assisted in the search for missing ships like the Titanic and many others.
we collaborated to invent the side looking sonar machine that allowed us to get government contracts with the United States Navy
My second wife Zdenka was also Czech, and we married in 1977 and had my third daughter, Katherine.  We moved to San Diego, California and relocated the company as well.  Throughout all of these years, the Czech Communist Party would not ever grant me a visa to go back to visit my family in Czechoslovakia.  I was not allowed to go back until the mid-80's. After 1989, my wife Zdenka received reparations from the Communist Party due to the political imprisonment and death of her mother, and we together purchased a home in Prague and in a farmhouse in the forest of Southern Bohemia. It felt so incredible to reestablish our roots and finally be able to travel back and forth from the U.S. to the Czech Republic on a regular basis.
EcoSystems went on to do some incredible work – including the seismic profiling of the San Francisco Bay Bridge, the San Francisco Airport (SFO) runway, and building an artificial reef to combat the environmental damage in the waters offshore the San Onofre Power Plant.  My most favorite project was in Prague, where we partnered with Dr. Zdeněk Dragoun to unearth pillars and pieces of the Judith Bridge which was destroyed in the 14th century and lies underneath the famous Charles Bridge.
I spent my time managing EcoSystems, playing tennis, skiing, bicycling, running, traveling and spending time with friends. My life, while filled with so much challenge, has been lived to its fullest. The legacy that I wanted to leave behind is that life is short, time is limited, and you must never stop exploring.
Karel Zabloudil died on July 31, 2000 in the arms of my wife Zdenka. He is  survived by three daughters, Eva, Betsy, and Katherine, grandchildren Erin, Andrew, Duke, Ian and Frankie, and great granddaughter, Emelia.