Martin Handl
How was my journey from the hometown of Pačlavice to South America in 1929: It started on January 20 at 7.30 p.m., when I left home. Together with Josef Lechner, Karl Špidla, Josef Handel and Týnka Judasová. We got into the car of our neighbor Josef Soldán, who took us to Nezamyslice for the night train to Prague. We arrived in the metropolis at 5 a.m. and headed to the immigration office in Libeň, where we submitted all necessary documents.
We had to wait until the next day when they issued us our passports and exchanged money. We received 24 pounds for 3,840 Czechoslovak koruna. We went to North German Lloyd Company for ship tickets, insurance, and a travel contract. Our cruise to Buenos Aires was paid for, there was no way back. Then we went to the consulate to get the visas for Argentina, for a fee of 112 koruna. On January 22 at 5.30 p.m., we left Prague for Bremen by train. I remember we saw developed infrastructure and a nice flat country. We also bought sausages and beer to say goodbye to the Europe we used to know.
The next stop was Vigo, near the Portuguese border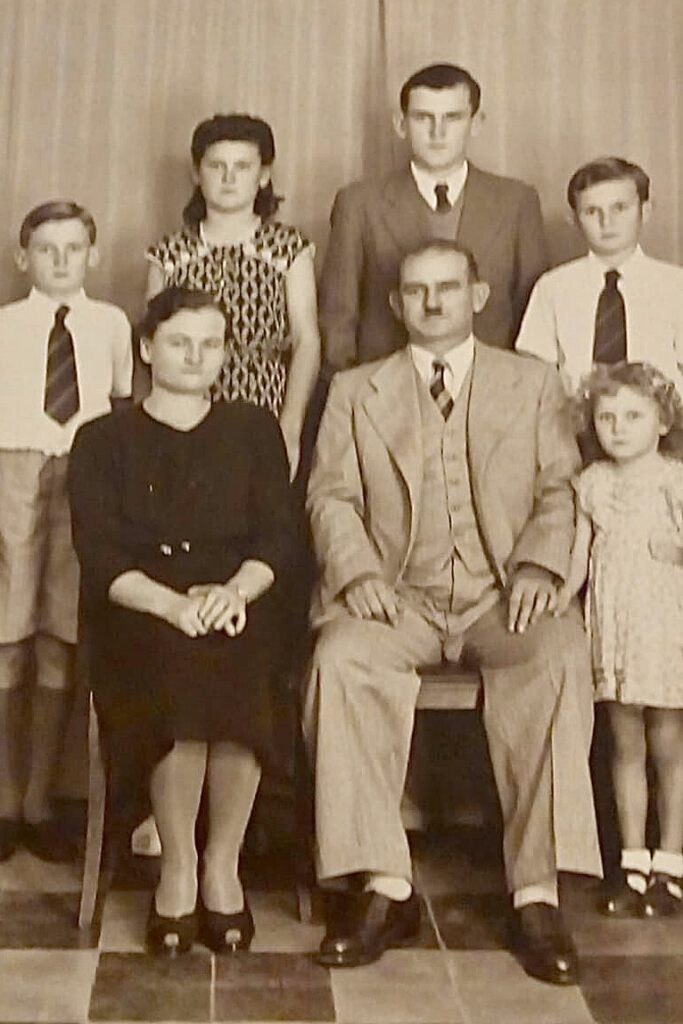 We arrived in Bremen on January 23, 1929, at 2 p.m. They took us to the immigration office and then to a medical eye examination. The next day, the medical checks continued, after which we were ticketed directly to the port of Bremen, where on January 26 we boarded the ship Madrid bound around the French coast to the port of La Coruña in northern Spain. After some three hours we left, the boat started rocking and I was so sick that I went to the cabin and didn't come out until we docked in La Coruña after four days of travel. The next stop was Vigo, near the Portuguese border, where we bought about ninety oranges at the market. Halfway through the next voyage we were surprised by a heavy storm and thick fog, which caused us to wander, lost at sea, all day before we landed safely at Porto and subsequently at Lisbon. We had a longer break there, which we used to go to the city center, mainly to a tavern, where we drank a lot of wine and bought another six liters to take with us on board. After leaving the Portuguese capital, we also left the European mainland and sailed to the island of Madeira, where the last Austro-Hungarian Emperor, Charles I, died. We crossed the equator on February 12. I remember it was unbearably hot and at 2 p.m. there was a great commotion on board because everyone had to turn the clocks back three hours due to the change of time zones.
On February 13, all passengers were vaccinated against tropical diseases, and in the evening a masquerade ball was held on board. Each day we covered a distance of 300 to 320 nautical miles before we finally saw the American mainland on February 19. The first stop was Rio de Janeiro, a beautiful harbor with banana trees growing on the roads like apple trees in Moravia. And again, the omnipresent heat. Next stop was the port of Rio Grande in the south of Brazil and Montevideo in Uruguay, where we exchanged money and met the group of local Czechs. All I could think about was how long it would take to get to Buenos Aires.
On February 23 at 5.30 p.m., we arrived at our destination, having overcome an incredible 11,700 kilometers from Bremen. They checked our luggage, we went through all immigration procedures, and stayed in the city for four days. We stayed in a hotel owned by the Czechs, rode the tram, and visited the zoo.
we headed north to the town of Presidencia Roque Sáenz Peña in the province of Chaco
On February 27, we headed north to the town of Presidencia Roque Sáenz Peña in the province of Chaco, where we arrived three days later. Jiří aka Jorge, my old friend from Pačlavice, was waiting for me there. My new life in Argentina began with lunch at the Hotel Slavie. A large Czech community (over 1,000 people) already lived in the city. The first pioneer was Petr Šašvata from Velké Bílovice near Břeclav already in 1913, when he moved here from Texas and established the Union Checoeslovaca. He was also responsible for the modern way of growing cotton, which became the main agricultural product of the entire province and the basis of the prosperity of the Czech colony.
Martin Handl (1904-1984) made a living as a basket maker in Moravia. In the Presidencia Roque Sáenz Peña, he settled in the Bajo Hondo district and became a farmer. On July 20, 1931, he married Stephanie Anna Hlavickova, also from Pačlavice in Czechoslovakia. They had five children: Odoric, Flora, Valerio, Sidonio and Rosa. Handl helped to establish the Czech school and the Tomáš Garrigue Masaryk Association. For twelve years, he ran a general store, then a prosperous joinery and furniture factory.